new books from paraverse press where creative nonfiction is not journalism. ~~~~~~~~~~~~~~~~~~~~~~~~~~~~~~~~~~~~~~~~~~~~~~~~~~~~~~~~~~~~~~~~~~~~~~~~~~~~~~~~~~~~~~~~~~~~~~~~

All books may be ordered from Amazon, Barnes & Noble, Powell's and top bookstores. They are also 100% viewable at Google Books.
~~~~~~~~~~~~~~~~~~~~~~~~~~~~~~~~~~~~~~~~~~~~~~~~~~~~~~~~~~~~~~~~~~~~~~~~~~~~~~~~~~~~~~~~~~~~~~~~~~~~~~~~~~~~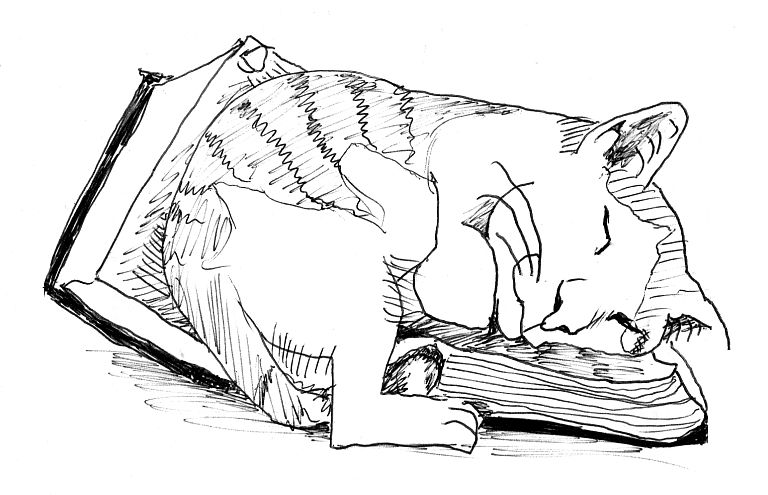 an essay into felinity
The Cat Who Thought Too Much
Isbn # 9780984092321 and $25. A cat book for people who think, too. 100 illustrations from the author's journals. If the dog is a child's "best friend," the cat is a mature writer's ideal companion. See the description with a list of chapters or the entire 312 page work at Google Books. (On sale from 2010/1/21)
Readers who appreciate the cat chapters in Lorenz's The Dog and Vicki Hearne's Adam's Task, and books such as Barbara Holland's The Secrets of the Cat and Leonard Michaels' A Cat, or Crompton's The Snake may like it.
~~~~~~~~~~~~~~~~~~~~~~~~~~~~~~~~~~~~~~~~~~~~~~~~~~~~~~~~~~~~~~~~~~~~~~~~~~~~~~~~~~~~~~~~~~~~~~~~~~~~~~~~~~~~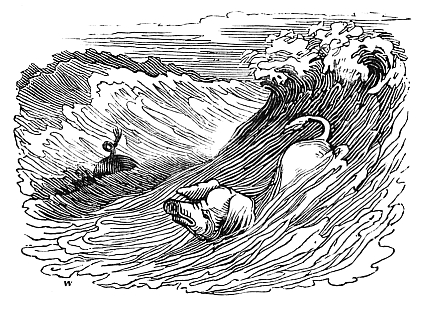 A DOLPHIN
Composite Translation, Paraversing & Distilling Prose
IN THE WOODS
Isbn # 9780984092314 and $22.22. The cover jpeg failed to reduce, so we just give the cover picture. Catalog: 1. Poetry – rhyme, paraversing, composite translation as a game. 2. Translation of poetry – multiple readings. 3. Japanese poetry in translation. 4. Chinese poetry in translation. 5. Metaphysical poetry – take-offs and retorts. 6. Found poetry – distilling prose. 7. Y. Hoffmann, D. Hofstadter, J. Mostow, H. Sato, E. Weinberger. 8. Puzzles creating a product – contesting poetry. Please see the book description.
~~~~~~~~~~~~~~~~~~~~~~~~~~~~~~~~~~~~~~~~~~~~~~~~~~~~~~~~~~~~~~~~~~~~~~~~~~~~~~~~~~~~~~~~~~~~~~~~~~~~~~~~~~~~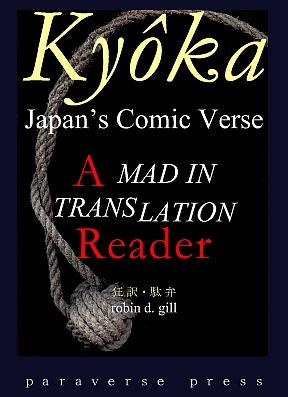 Kyōka, Japan's Comic Verse: a Mad in Translation Reader
Isbn # 9780984092307 and $23.45 (if I recall right). This Reader is a selection from "Mad in Translation – a thousand years of kyōka, comic Japanese poetry in the classic waka mode," a 2000-poem, 200-chapter, 740-page monster of a book. It offers a 300-page double distillation high-proof sample of the poetry and prose, with improved translations, re-considered opinions and additional snake-legs (explanation some scholars may not need). The scattershot of two-page chapters and notes have been compounded into a score of cannonball-sized thematic chapters with just enough weight to bowl over most specialists yet, hopefully, not bore the amateur and sink a potentially broad-beamed readership.
Mad Reflection – on what makes good poetry bad and bad poetry good. 23
Mad Logic – to overshoot paradise wearing one pair of straw sandals. 35
Mad Fantasy – from wingless tōfu to Miss Canthus & her champ Pignon. 49
Mad Parody – or, rather, counterpoint, harmony, improvisation, riff, etc. 61
Mad Love – burning hearts floating or sinking in a river or pond of tears. 75
Mad Sex – mostly by Getsudōken, the kyōka poet who made it natural. 95
Mad Scoops & Squibs – reporting the odd and lambasting the bad. 107, etc. the rest.

~~~~~~~~~~~~~~~~~~~~~~~~~~~~~~~~~~~~~~~~~~~~~~~~~~~~~~~~~~~~~~~~~~~~~~~~~~~~~~~~~~~~~~~~~~~~~~~
MAD IN TRANSLATION – a thousand years of kyōka, comic japanese poetry in the classic waka mode. by Robin D. Gill. 2009/6/21 ('Hurricane Season in Florida'). Isbn # 9780974261874. pp740. $37 (f__ing cheap)!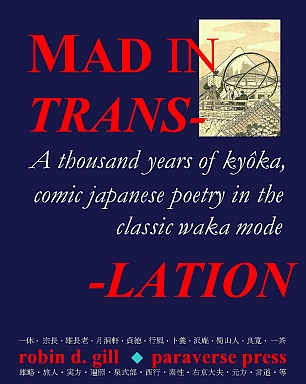 1. Japanese poetry – comic – translations into English 2. English poetry – comic – translations from Japanese. 3. Kyōka (mad poems) – 8c ~ 19c. 4. Waka – 8c ~ 19c. 5. Kyōku (kyōka-like haiku). 5. Japanese poets – Bokuyō, Lady Daibu, Getsudōkan, Henjō, Ikkyū, Lady Ise, Issa, Jakuren, Jihinari, Kisshū, Kōfū, Kotomichi, Magao, Meshimori, Mitoku, Motokata, Ryōkan, Saigyō, Sanekata, Sanetaka, Sengai, Izumi Shikibu, Shokusanjin (Ōta Nanpo), Shunzei, Sōchō, Sosei, Tabito, Takuan, Teiryū, Teitoku, Tameie, Tsurayuki, Yakamochi, Yayū, Yomo no Akara (Ōta Nanpo), Yūchōrō, etc..
This is the neglected half of waka, the greater part of the traditional poetry of Japan, Englished for the first time.
Over a hundred years ago, Lafcadio Hearn wrote the following regarding his Goblin Poetry:
"The word 'kyoka' is written with a Chinese character signifying 'insane' or 'crazy'; and it means a particular and extraordinary variety of comic poetry. The form is that of the classic tanka of thirty-one syllables (arranged 57577); — but the subjects are always the extreme reverse of classical; and the artistic effects depend upon methods of verbal jugglery which cannot be explained without the help of numerous examples . . . a class of Japanese poetry about which little or nothing has yet been written in English . . . "
Oddly enough, what he writes is still the case. For more information about this groundbreaking book, see the description!
~~~~~~~~~~~~~~~~~~~~~~~~~~~~~~~~~~~~~~~~~~~~~~~~~~~~~~~~~~~~~~~~~~~~~~~~~~~~~~~~~~~~~~~~~~~~~~~~~~~~~~~~~~~~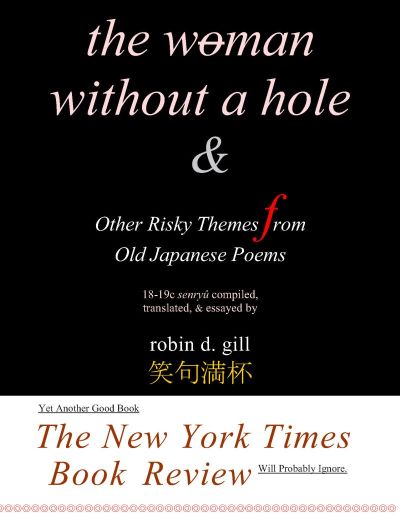 The Woman Without a Hole – & other risky themes from old japanese poems (isbn 9780974261850) pp 504 = $30. In UK 15 pounds AND
Octopussy, Dry Kidney & Blue Spots – dirty themes from 18-19c japanese poems (isbn 9780974261881) are the same book published under different title as an experiment. The book has 1,300+ 18-19c senryu & zappai of the type Blyth called unprintable and, includes the original Japanese, indexes etc. . On sale from Halloween 2007. Senryu are, after haiku, the best known genre of Japanese poetry in English. A large proportion of the Japanese originals treat off-color subjects, so much so that books about the sexual practices of 18-19c Japan generally cite many senryu as documentation. Yet, less than a hundred dirty senryu have been introduced in English until this book, with 1,300 translated senryu (and the originals). Whether or not you have heard of senryu, if you are literate enough to practice what Emerson called "creative reading," these essays in sex, humor, Japanese poetry, urban legend, metaphor and translation should delight you.
I will continue the description below rather than on a separate page because I cannot figure out how to put the other cover next to this one other than creating a new table and that is too much work for now (the blue sky may not last and I use a satellite). TABLE OF CONTENTS.
PLEASE LET US KNOW WHICH TITLE YOU PREFER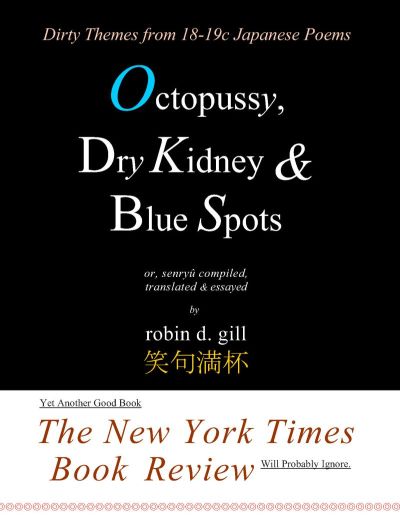 17-syllabet Japanese poems about human foibles, sans season (i.e., not haiku), were introduced a half-century ago by RH Blyth in two books, "Edo Satirical Verse Anthologies" and "Japanese Life and Character in Senryu." Blyth regretted having to introduce not the best senryu, but only the best that were clean enough to pass the censors. In this anthology, compiled, translated and essayed by Robin D. Gill, like Blyth, a renowned translator of thousands of haiku, we find 1,300 of the senryu (and zappai) that would once have been dangerous to publish. The book is not just an anthology of dirty poems such as Legman's classic "Limericks" or Burford's delightful "Bawdy Verse," but probing essays of thirty themes representative of the eros – both real and imaginary – of Edo, at the time, the world's largest city. Japanese themselves use senryu for historical documentation of social attitudes and cultural practices; thousands of senryu (and the related zappai), including many poems we might consider obscene, serve as egs in the Japanese equivalent of the OED (nipponkokugo daijiten). The specialized argot, obscure allusions and ellipsis that make reading dirty senryu a delightful riddle for one who knows just enough to be challenged yet not defeated, make them impenetrable to outsiders, so this educational yet entertaining resource has not been accessible to most students of Japanese (& the limited translations to date prove that even professors have difficulty with it). This book tries to accomplish the impossible: it includes all the information – original poems, pronunciation, explanation, glossary – needed to help specialists improve their senryu reading skills, while refraining from full citations to leave plenty of room for the curious monolingual to skip about the eclectic goodies. Click for TABLE OF CONTENTS.
PLEASE NOTE THAT THE TWO NEXT BOOKS ARE ALSO NEW!
~~~~~~~~~~~~~~~~~~~~~~~~~~~~~~~~~~~~~~~~~~~~~~~~~~~~~~~~~~~~~~~~~~~~~~~~~~~~~~~~~~~~~~~~~~~~~~~~~~~~~~~~~~~~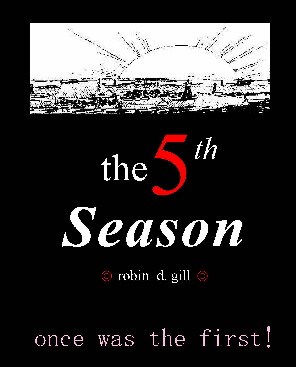 The Fifth Season – Poems for the Re-creation of the World Isbn 978-0-9742618-9-8 (On sale from the Chinese New Year, 2007). 464 pp $28
Or, the Japanese New Year, Books I & II of four, comprising Volume I of the delightfully dense and awfully eccentric saijiki In Praise of Olde Haiku (IPOOH) introduced, selected, translated and essayed by robin d. gill. Includes the original of all Japanese poems, a bibliography, poet, poem, people and subject indexes. In this book, the first of a series, the author of the largest single-theme anthologies of poetry ever published (the highly acclaimed Rise, Ye Sea Slugs! and Cherry Blossom Epiphany) explores the traditional Japanese Lunisolar New Year through 20 seasonal themes, with almost 2,000 haiku (mostly 17-20c). The New Year, once the Original, or First Season, of the five seasons of haiku, has been neglected in favor of the other four by Occidental translators. The Fifth Season finally gives this supernatural or cosmological season – one that combines aspects of the Solstice, Christmas, New Year's, Easter, July 4th and the Once Upon a Time of Fairy Tales – its due. The contents will delight lovers of literate non-fiction (i.e., essay) and all interested in celebration, cultural and folk practice in Japan, haiku, light-verse, translation and, because of the design, book design. Full Description is here. Reviewers, please see the Errata, here. Back cover photo is here.
~~~~~~~~~~~~~~~~~~~~~~~~~~~~~~~~~~~~~~~~~~~~~~~~~~~~~~~~~~~~~~~~~~~~~~~~~~~~~~~~~~~~~~~~~~~~~~~~~~~~~~~~~~~~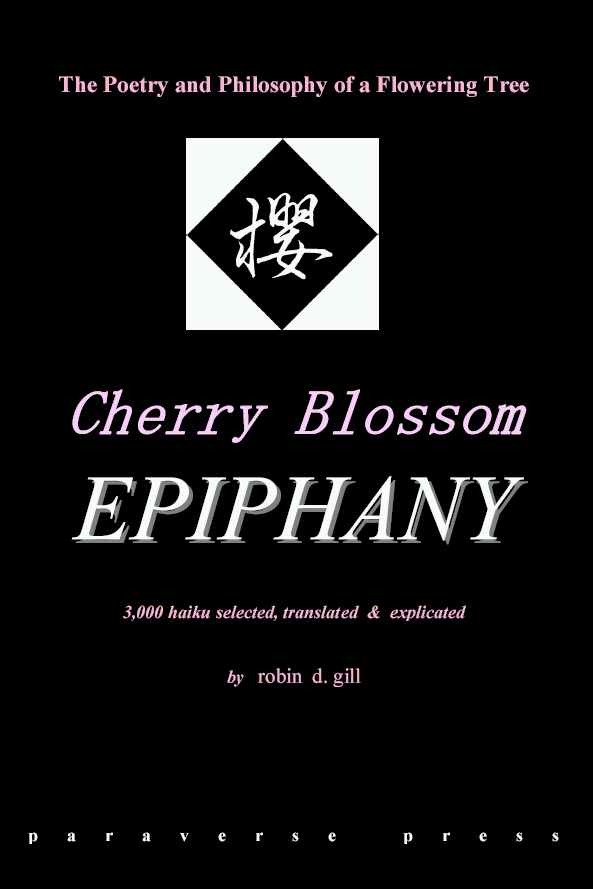 Cherry Blossom Epiphany – the poetry and philosophy of a flowering tree –
ISBN# 0-9742618-6-6 (pbk); 13 digit 978-0-9742618-6-7 740 pp $39
a selection, translation and lengthy explication of 3000 haiku, waka, senryū and kyōka
about a major theme from I.P.O.O.H. (In Praise Of Olde Haiku) by robin d. gill
If the solemn yet happy New Year's is the most important celebration of Japanese (Yamato) ethnic culture, and the quiet aesthetic practice of Moon-viewing in the fall the most elegant expression of Pan-Asian Buddhism=religion, the subject of this book, Blossom-viewing – which generally means sitting down together in vast crowds to drink, dance, sing and otherwise enjoy the flowering cherry in full-bloom – is less a rite than a riot (a word originally meaning an "uproar"). The major carnival of the year, it is unusual for being held on a date that is not determined by astronomy, astrology or the accidents of history as most such events are in literate cultures. It takes place whenever the cherry trees are good and ready. Enjoyed in the flesh, the blossom-viewing, or hanami, is also of the mind, so much so, in fact, that poetry is often credited with the spread of the practice over the centuries from the Imperial courts to the maids of Edo. Nobles enjoyed link-verse contests presided over by famous poet-judges. Hermits hung poems feting this flower of flowers (to say the generic "flower"= hana in Japanese connotes "cherry!") on strips of paper from the branches of lone trees where only the wind would read them. In the Occident, too, flowers embody beauty and serve as reminders of mortality, but there is no flower that, like the cherry blossom, stands for all flowers. Even the rose, by any name, cannot compare with the sakura in depth and breadth of poetic trope or viewing practice. In Cherry Blossom Epiphany, Robin D. Gill hopes to help readers experience, metaphysically, some of this alternative world. The book description is here:
~~~~~~~~~~~~~~~~~~~~~~~~~~~~~~~~~~~~~~~~~~~~~~~~~~~~~~~~~~~~~~~~~~~~~~~~~~~~~~~~~~~~~~~~~~~~~~~~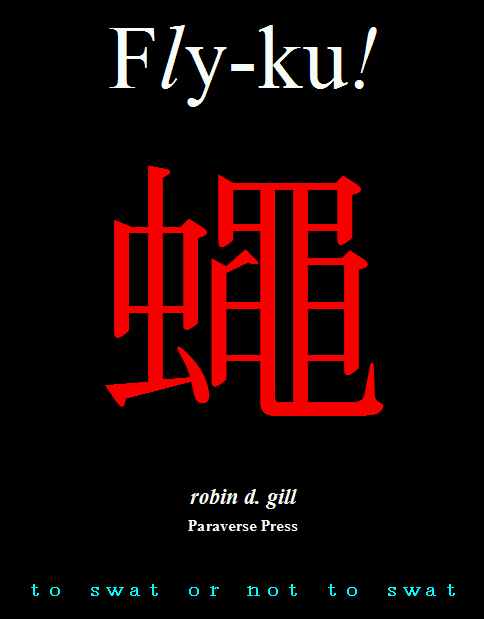 Fly-ku! A sample paragraph from the Foreword: To swat or not to swat: that is the question posed by many if not most of the thousands of haiku written about flies over the past four or five hundred years. The answer, if there is an answer, is not simple. Most Japanese poets hardly shared John Muir's sense of kinship for "our horizontal brothers", who "make all dead flesh fly," much less John Clare's gushy affection for "our fairy familiars." Even the haiku of the most merciful poet of all, Kobayashi Issa, whose feeling for flies comes closest to that of the American naturalist and English nature poet, did not really condemn swatting as most of his Western and, for that matter, Japanese readers, usually imagine. See the fly-ku description , the fly-ku sample, Carlos Amantea, Jane Reichhold's and Robert Wilson's reviews or, if you have it already, the errata. 240 pp isbn# 097426184X $15

~~~~~~~~~~~~~~~~~~~~~~~~~~~~~~~~~~~~~~~~~~~~~~~~~~~~~~~~~~~~~~~~~~~~~~~~~~~~~~~~~~~~~~~~~~~~~~~~~~~~~~~~~~~~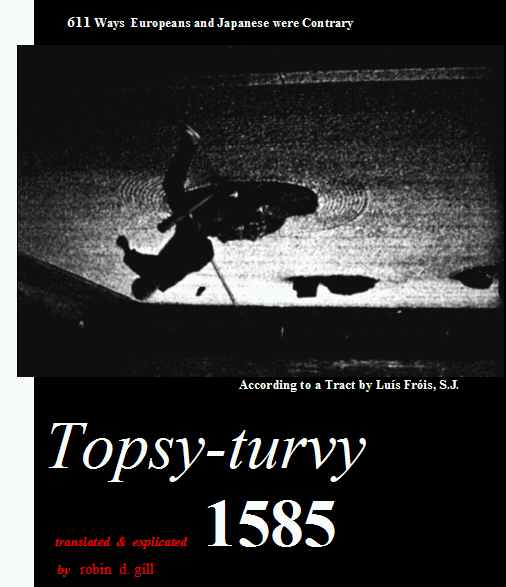 TOPSY-TURVY 1585 a translation & explication of Luis Frois S.J.'s Tratado (treatise) listing
611 Ways Europeans & Japanese are Contrary by robin d. gill (isbn # 0974261815)
Pocket book translations in Japanese of Luis Frois's Tratado, with its 611 two-line contrasts between the Japanese and the Europeans, written in 1585, have gone through dozens of printings; the content is that interesting. Gill supplies more commentary (and fun) to create what might be called an Empire of Signs magnified a hundred-fold. 740 pp for only $33.33. Check it out: topsy-intro topsy-sample topsy-index topsy-review topsy-errata .
TOPSY-TURVY 1585 SHORT VERSION is 460 pgs and $24 (isbn#0974261831) If a 740 page book weighs you down, try this one, instead! All 611 of Frois's contrasts are included but the author's ramblings somewhat shortened. The cover has Hokusai's Wave, upside-down.
~~~~~~~~~~~~~~~~~~~~~~~~~~~~~~~~~~~~~~~~~~~~~~~~~~~~~~~~~~~~~~~~~~~~~~~~~~~~~~~~~~~~~~~~~~~~~~~~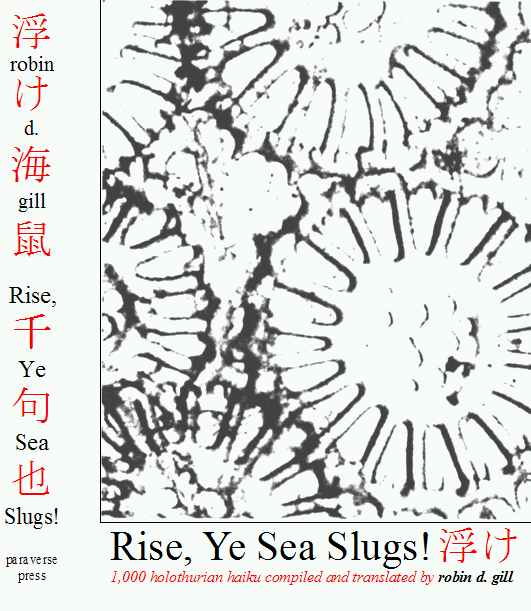 A long review of Rise, Ye Sea Slugs! (1,000 holothurian haiku selected, translated and spiced with natural history) by William J. Higginson in Modern Haiku (Winter-Spring 2004) says it all:
"If you have read Yasuda, Blyth, Henderson, Ueda, and Shirane, then read Gill. He will expand your mind. If you have not read those guys yet, then read Gill first. He's more fun."
But, despite rave reviews in small but good magazines, the mass media (on payola?) has remained mum, so almost no one knows the book exists (for reviews in Spanish and Japanese, click on the appropriate language.). If you like it, please e-mail friends, grab your local book review editor by the ear and pester librarians who think everything good is in Library Journal. They will thank you, for this book takes as long to read as 20 average books. If each book costs an average of $25, you will save your friend $500 in books not bought and save that many trees from being cut down! (The same thing goes triply for Cherry Blossom Epiphany with its 3000 poems!)
Note: You need not like haiku or sea cucumbers to like this book. You only need to like ideas and literature.
~~~~~~~~~~~~~~~~~~~~~~~~~~~~~~~~~~~~~~~~~~~~~~~~~~~~~~~~~~~~~~~~~~~~~~~~~~~~~~~~~~~~~~~~~~~~~~~~~~~~~~~~~~~~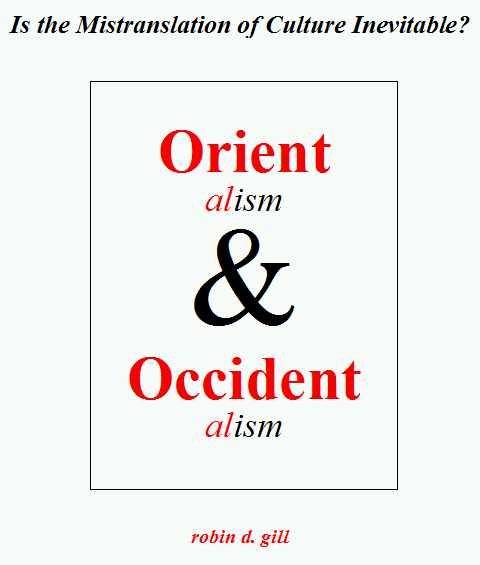 Orientalism & Occidentalism Is the mistranslation of culture inevitable? by robin d. gill
How exotic tongues (there is no exotic tongue=singular -- it is always a relationship) cannot help creating prejudice with respect to one another is demonstrated and the problems of translation are brought out in a fun but still erudite way. A must read for all with an interest in translation or a curiosity about what makes one language better and worse than another (Discussed by Harris in My Life and Loves, but neglected by linguists).
The essence of the arguments found in Gill's anti-stereotype books published in Japan/ese by Chikuma-bunko (a leading large publisher), Hakusuisha (a leading academic publisher), Kousaku-sha (a leading avant-garde publisher) and TBS Britannica (a rich new publisher at the time), with additional material for an English-speaking audience. At $12, priced for students. Check it out: Sample of text. Index. (isbn # 0974261815)
~~~~~~~~~~~~~~~~~~~~~~~~~~~~~~~~~~~~~~~~~~~~~~~~~~~~~~~~~~~~~~~~~~~~~~~~~~~~~~~~~~~~~~~~~~~~~~~~
NOTE: The first versions of all our first editions might best be called Reading Copies. They have more errors than the revised version, which is a minus, but will be valuable some day for being scarce, a plus. Fly-ku! and Orientalism & Occidentalism are already revised, the others are not.